From Lindsie Trego, a fourth-year dual degree student at UNC pursuing a JD and an MA in Mass Communication, who interned at the Student Press Law Center: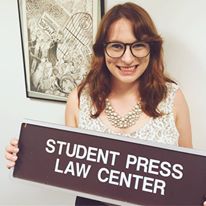 I had the amazing opportunity to work as a law clerk at the Student Press Law Center this last summer. I first visited the SPLC office back in January of 2013 on a college trip, before I had decided that law school was for me, and before I had even fully realized that a career in media law was a possibility. I remember the SPLC (and the Reporters Committee, with which SPLC was then sharing an office) sparking my interest, and I remember telling my professor that I thought it might be fun to work there someday. Working with the SPLC this summer felt like coming full circle on that experience.

The SPLC is a hectic (and windowless) office: With a small team of lawyers, non-legal staff, and interns, the organization helps thousands of student journalists each year with issues ranging from administrative censorship to public records requests. Because it's such a small organization with such a big mission, there isn't much hand-holding for interns, which meant I had the opportunity to be a true self-starter and work on a variety of projects.

My biggest project was writing an amicus brief for a First Amendment case before the 9th Circuit Court of Appeals, Koala v. Khosla. The case began when University of California-San Diego revoked funding for five student media publications after one of those outlets published a satirical column calling for "unsafe spaces," and it questions whether UCSD can skirt First Amendment prohibitions on censorship by cutting funding for a group of publications rather than just one publication. In the SPLC amicus brief, which was joined by seven other press freedom organizations, I pointed out the unique role of the student press in a democratic society, the historical vulnerability of the student press to censorship, and the way that expanding legal loopholes increase this vulnerability.

Other projects included subjects such as press access to college campuses, access to court records, and defamation. Another highlight of my summer was teaching media law workshops for high school journalists on behalf of the SPLC, both in D.C. and back here in Chapel Hill.

I would definitely recommend a summer with the SPLC to go-getter law students interested in media law and First Amendment issues! I owe a big thank-you to the SPLC staff for the amazing experience, and to the Center for Media Law for providing a grant to help make the experience possible.