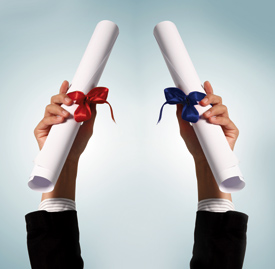 Hey students, have you thought about what you want to do after you graduate with your undergraduate or master's degree? Thinking about law school and a career in media law and policy? A strong background in law and mass communication can be a launching pad for a career in law, media, business, entertainment, government, public policy or academia. For a sampling of the jobs available in these growing fields, check out our Media Law Jobs Board.
The nationally renowned UNC School of Media and Journalism and UNC School of Law have brought together these two dynamic fields to offer two exciting dual degree programs in media law and policy that allow students to earn simultaneous M.A./J.D. or Ph.D./J.D. degrees in less time than it would take to earn the individual degrees separately (an earned master's degree is required to apply for the dual Ph.D./J.D. degree program). Students who apply to the dual degree program can use their LSAT score in lieu of the GRE for admission to the M.A. or Ph.D. program. Dual degree students often work with the Center for Media Law and Policy and receive extensive mentoring from the Center's affiliated faculty.
We will be holding two information sessions for the Dual Degree Program over the next two weeks.  The first, which is geared primarily for current law students, will take place on October 22 at 5:00 PM in Room 5048 at the UNC School of Law.  The second session will be on October 29 at 5:00 PM in the Freedom Forum Conference Center in Carroll Hall at the UNC School of Media and Journalism. For more information on the October 29 session, please see our separate event listing.
Anyone interested in joining the active and vibrant media law community here at UNC is invited to attend either session. Members of the program's faculty and current dual degree students will be there to answer questions. Pizza will be served!