The University of North Carolina at Chapel Hill will celebrate its twelfth First Amendment Day on Wednesday, September 29, 2021. This campus-wide, daylong event is designed to both celebrate the First Amendment and explore its role in the lives of Carolina students. Students and other members of the university community will read from banned books and discuss the public university's special role as a marketplace of ideas and the need to be tolerant when others exercise their rights. As always, First Amendment Day is observed during National Banned Books Week.
We will be adding events to this page as they are announced. You can read about past First Amendment Day events by clicking on the links to the right.
First Amendment Day is organized by the UNC Center for Media Law and Policy and is truly one of the highlights of the year for the UNC community. Follow the festivities on Twitter via #UNCFree.
2021 First Amendment Day Events
---
Shared Governance and Academic Freedom: The Foundations of Higher Education and Their Uncertain Future
3:30 pm - 5:30 pm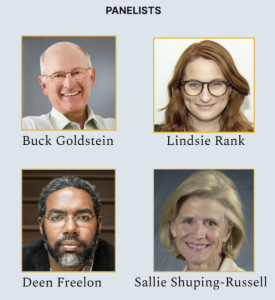 The Center for Media Law and Policy will be joining with UNC's Graduate School and Royster Society of Fellows to present a panel discussion on academic freedom and shared governance at universities in the U.S.
In 1967, the U.S. Supreme Court wrote that "our Nation is deeply committed to safeguarding academic freedom, which is of transcendent value to all of us, and not merely to the teachers concerned. That freedom is therefore a special concern of the First Amendment." The Court observed that "the Nation's future depends upon leaders trained through wide exposure to that robust exchange of ideas which discovers truth 'out of a multitude of tongues, [rather] than through any kind of authoritative selection'."
While the history of higher education is one of constant tensions among state, private and faculty power, recent attacks on the work of researchers and educators are more subject to disinformation and political polarization than in decades past. The sometimes indistinct boundaries of academic freedom make the discussion about what it is or should be more challenging; the public itself is largely disconnected from that discussion and how such principles and practices serve or should serve them.
Panelists:
The event will held on Zoom and is open only to members of the UNC community.  For more information and to register, please visit the Royster Society of Fellows' event page here.
---
Is the First Amendment Relevant in the Age of Social Media?               
6:00 pm - 7:15 pm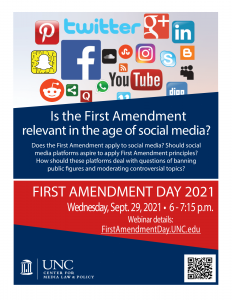 No topic seems to consume us more today than the power that social media companies hold over our public sphere.  After years of controversy surrounding Donald Trump's use of social media, Facebook and Twitter removed him from their platforms in 2021 — Facebook indefinitely, and Twitter permanently. For many people, Facebook and Twitter's bans were long overdue, but many others have decried these decisions as infringements on free speech.  Regardless of where one stands on Trump's use of social media, there is no ignoring the fact that a small number of technology companies enjoy outsized influence over who has access to what the Supreme Court calls the "modern public square."
This raises a host of important questions: To what extent does the First Amendment apply to social media companies like Facebook and Twitter? Should the First Amendment apply to their decisions limiting who has access to their platforms? Should social media platforms aspire to apply First Amendment principles? How should these platforms deal with questions of banning public figures and moderating controversial topics?
In partnership with the UNC Democracy Initiative and UNC Center for Information, Technology, and Public Life (CITAP), we'll take up these questions and more in our (virtual) panel discussion on First Amendment Day.  The panelists will be:
William Marshall, William Rand Kenan, Jr. Distinguished Professor of Law, UNC School of Law
Shannon McGregor, assistant professor, Hussman School of Journalism and Media at University of North Carolina
Jasmine McNealy, associate professor, College of Journalism and Communications at the University of Florida
Matt Perault, professor of the practice, UNC School of Information and Library Science
Marc Randazza, managing partner, Randazza Legal Group
The conversation will be moderated by David Ardia, associate professor of law and faculty co-director of the UNC Center for Media Law and Policy.
The event will be free and open to the public on Zoom.  Please join us at 6:00 PM on Sept. 29 by going to this link:
https://unc.zoom.us/j/91860561982
The video from the event is available here:
---
First Amendment (Virtual) Trivia Contest               
8:00 pm - 9:30 pm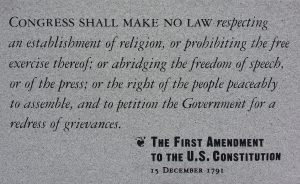 What rights are explicitly protected by the First Amendment? Which U.S. Supreme Court justice said obscenity was difficult to define but "I know it when I see it?" Enter the trivia contest and test your knowledge of the First Amendment.
Winners will receive a gift certificate from Epilogue Books or Flyleaf Books!
Please join us for this virtual trivia contest.  Heck, you can just watch and enjoy the fun. This event is being organized by doctoral candidate Evan Ringel and MA/JD student Kathryn Johnson.
This event is only open to members of the UNC-Chapel Hill community. You will need to be signed into your UNC Zoom account to access the session at: https://unc.zoom.us/j/93278641772.
---