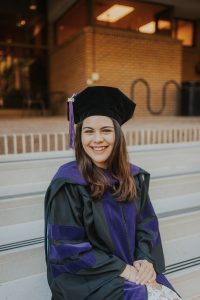 The UNC Center for Media Law and Policy is thrilled to announce the first place winner of the fourth annual James R. Cleary Prize for the best student published scholarly articles on media law and policy.  The award comes with a $1,000 cash prize.
This year's winner is Isabela Palmieri, a dual-degree JD/MA student at the UNC School of Law and UNC Hussman School of Journalism and Media, for her article, "The Sound of Death and 'Shroud of Secrecy': The Ninth Circuit's Inconsistent Application of the History and Logic Test in First Amendment Coalition of Arizona, Inc. v. Ryan," which was published in Volume 99 of the North Carolina Law Review. Palmieri's article examines the Ninth Circuit's decision in First Amendment Coalition of Arizona, Inc. v. Ryan, which recognized a First Amendment right of access to the sounds of an execution but not to information related to such execution. In her article, Palmieri argued that the Ninth Circuit ignored its own relevant precedent and was inconsistent in its application of the applicable standard because it failed to apply the history and logic test to the claim of a right of public access to information relating to lethal injection drugs and executioners.
Isabela Palmieri is a recent dual-degree graduate of the University of North Carolina School of Law and the Hussman School of Journalism and Media where she earned her Juris Doctor degree and Master of Arts degree concurrently.
Palmieri has focused her scholarship on the First Amendment and intellectual property. Her master's thesis explored the intersection between embedding content online and copyright law by applying a multi-method approach to analyze the law, platforms' terms of service, and platforms' technological affordances. Building upon her thesis, she co-authored an article with Dr. Amanda Reid, titled "Copyright & Shareability: A Contractual Solution to Embedding via Social Media," which was awarded Second Place, Top Faculty Paper by the Association for Education in Journalism and Mass Communication (AEJMC).
Palmieri has previously worked for the Foundation of Individual Rights in Education (FIRE), where she had the opportunity to defend and sustain the individual rights of students and faculty members in higher education. Palmieri will sit for the Pennsylvania bar in July. She will join Troutman Pepper Hamilton Sanders, LLP, at their Philadelphia office in the fall of 2022 as an entry-level associate.
You can read more about the Cleary Prize competition here. Please check the Center's blog for an announcement of next year's deadline to apply.
Congratulations to our winner!