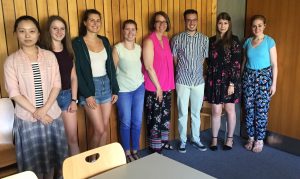 I recently returned from three weeks as the Distinguished Visiting Professor in Media Studies at the University of Tübingen in Germany, where I taught a seminar on international platform regulation to a small group of German undergraduates.
In theory, I taught them. In reality, they taught me as much if not more about the current state of global platform regulation. And that's not surprising, given how fast the discussions about regulation are moving and how immersed German students are in their online and offline communities.
The invitation to spend time with students at Tübingen's Institute of Media Studies is part of the UNC Center for Media Law & Policy's expanding efforts to understand and include global perspectives in media law at a time of rapid and increasing change. (It was also thanks to our growing relationship with UNC Global and their work to support the UNC – Tübingen partnership and to our terrific host, Dr. Guido Zurstiege.) Traditional libertarian perspectives that underlie the First Amendment and much of U.S. case law are on the defensive thanks to growing political polarization and online forces that are manipulating the speech environment.
As the United States debates whether to revise the part of the Communications Decency Act (CDA) known as Sec. 230, (the provision of federal law that was adopted in 1996 to incentivize good faith efforts by media platforms to address online harms and in return receive protections from liability), the European Union (EU) and Germany, in particular, are not waiting.
My conversations with students and scholars in Tübingen repeatedly focused on what holds the U.S. back from moving forward with Sec. 230 reform and what countries like Germany are already doing to demand more accountability from platforms like Facebook and Twitter. With Germany's hate speech regulation history, it is not surprising to find the discussion there focused on "why" and "how" – not "if" and "when," as it is here in the States.
To be sure, Tübingen students did express concerns about collateral censorship and the EU's adoption of Article 13, a measure that will hold platforms more accountable for infringing content. But in terms of addressing the real and tangible harms of hate and radicalization online, there is no question: Germany and the EU have already moved quite aggressively.
Indeed, while I was in Germany and later, when I traveled to France to present at the World Journalism Educators Conference, both countries made a flurry of announcements.
In Germany, the Bundesamt für Justiz, Germany's Federal Office of Justice, announced it would fine Facebook €2 million for allegedly failing to comply with how it reports the number of hate speech complaints it gets, part of the obligations set out in Germany's NetzDG law. France followed Germany's lead and passed landmark legislation to fight hate speech; it also now requires U.S. tech platforms to remove "hateful" content within 24 hours and create a new button for users to flag abuse.
The message was clear: Germany and others aren't waiting for the U.S. to figure things out.