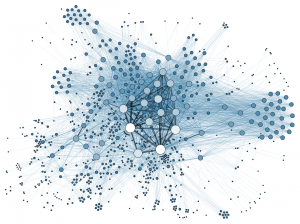 We are excited to announce the Center's 2017-18 faculty affiliates. This year, the Center added six scholars to our returning group of affiliated faculty, and we are thrilled to have them join our community. Our newest faculty affiliates are:
They will be joining our returning faculty affiliates: Penny Abernathy, Victoria Smith Ekstrand, Deborah Gerhardt, Anne Gilliland, Ferrel Guillory, Dave Hansen, Michael Hoefges, Paul Jones, Anne Klinefelter, Daniel Kreiss, Cal Lee, Gary Marchionini, Mary-Rose Papandrea, and Ryan Thornburg. You can read about each of these amazing scholars on our Affiliated Faculty page.
Affiliates of the Center are a community of scholars interested in the interdisciplinary exploration of issues related to media law and policy. Faculty affiliates play an active role in the life of the Center by participating in the Center's activities and identifying opportunities for interdisciplinary collaborations.
Image by Martin Grandjean licensed under Creative Commons Attribution-Share Alike 3.0 Unported license.