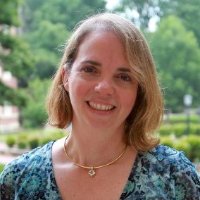 I'm pleased to announce that Dr. Victoria "Tori" Smith Ekstrand, associate professor at the School of Media and Journalism, has been appointed to serve as a faculty co-director of the UNC Center for Media Law and Policy. Tori replaces Dr. Michael Hoefges, the Center's dual-degree program advisor, who filled in as interim co-director following Cathy Packer's retirement in December 2017 (Thank you, Michael!).
Tori has been deeply involved with the Center for many years, most recently serving as the Center's communications director. Tori teaches media law courses at the School of Media and Journalism and is one of the nation's leading experts on the "hot news" doctrine. Before coming to Carolina, she was an associate professor in the Bowling Green State University Department of Journalism and Public Relations and an affiliate faculty member of BGSU's American Cultural Studies department. In 2008, she was awarded BGSU's Outstanding Young Scholar Award.
Tori's research explores conflicts between copyright law and the First Amendment, particularly as they arise in journalism and social media. Her work is often grounded in critical legal theory, in which she examines the impact of law and policy on culture and media production. In this vein, she has begun investigating online accessibility for the disabled as a First Amendment issue.  Tori has written two books on the hot news doctrine, a part of unfair competition law that protects the facts of news for a short period. Her revised book on the subject, Hot News in the Age of Big Data: A Legal History of the Hot News Doctrine and Implications for the Digital Age (LFB Scholarly, 2015), looks at the history of the doctrine and its impact on protections for discrete bits of information in the age of Big Data. She has also published articles in Journalism and Mass Communications Quarterly, Cardozo Arts & Entertainment Law Journal and Communication Law & Policy. Before teaching, Tori worked for The Associated Press in their New York headquarters for nearly a decade. She served as AP's director of Corporate Communications, responsible for marketing, public relations and events for the worldwide news agency.
Tori brings remarkable passion to everything she does. I'm thrilled that she is taking on an expanded role at the Center!