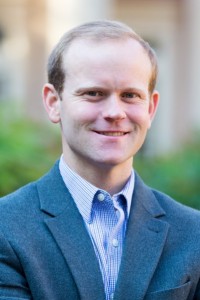 UNC media law Ph.D. student Brooks Fuller will begin work as an assistant professor in the Manship School of Communication at Louisiana State University in the fall. Brooks will teach classes in media law, ethics, and First Amendment issues.
Brooks will graduate from the Ph.D. program in the UNC School of Media and Journalism in May.
Brooks's dissertation is titled "Words, Wounds, and Relationships: a Mixed-Method Study of Free Speech and Harm in High-Conflict Environments." His work uses a mixed-method approach – legal analysis and ethnographic fieldwork – to better understand the importance of contextual analysis in determining whether potentially harmful speech is protected by the First Amendment. Brooks has conducted extensive fieldwork at an abortion clinic, where he observed and interviewed protestors on both sides of the abortion issue.
"I can't really say enough about how important the growing attention to interdisciplinary research has been in positioning me for the job at LSU," Brooks said. "Opportunities made available through the Park Fellowship and the Center for Media Law and Policy allowed me to explore outside my discipline and make connections with scholars similarly exploring at other institutions. The mentorship I received from the faculty in the MJ-School helped me find a path that I think will make me truly happy.
Congratulations, Brooks!