First Amendment Day is back on campus September 21st! After two years of hosting the event in virtual format, the Center for Media Law and Policy is excited to invite the Carolina community to engage in person with renowned scholars, journalists, and litigators.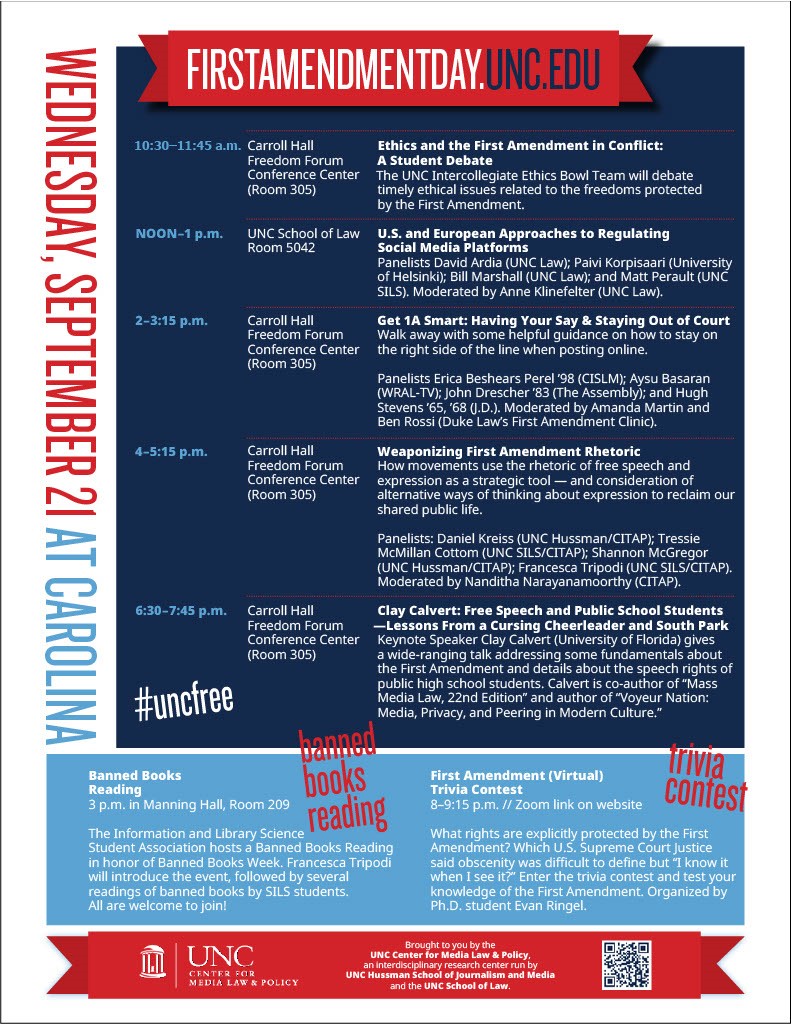 The faculty co-chairs of the UNC Center for Media Law and Policy—David Ardia, Reef C. Ivey II Excellence Fund Term Professor of Law at UNC School of Law, and Amanda Reid, Associate Professor at UNC Hussman School of Journalism and Media—have assembled a diverse group of speakers to discuss contemporary First Amendment issues like social media regulation, weaponization of First Amendment rhetoric, and speech in public schools (from cheerleaders to football coaches!). Other special events will include a banned book reading and a virtual First Amendment trivia contest with fun prizes and the return of the fan-favorite trivia category: First Amendment haikus.
The day will kick off at 10:30 a.m. in Carroll Hall with a student debate about timely ethical issues related to freedoms protected by the First Amendment. Then, the community is invited to the law school to hear legal scholars from UNC and the University of Helsinki discuss U.S. and European approaches to regulating social media platforms. Next, practicing journalists and lawyers will share guidance on how to stay within the bounds of the First Amendment (and out of court) when posting content online. Interdisciplinary speakers from the UNC Center for Information, Technology, and Public Life will then discuss the weaponization of the First Amendment rhetoric and how movements use the rhetoric of free speech as strategic social, political, and cultural tools. The day will culminate with a keynote address from University of Florida Professor Clay Calvert, the man who literally wrote the book on media law: Mass Media Law, 22nd Edition (with UNC Hussman graduates Dan Kozlowski '06 (Ph.D.) and Derigan Silver '09 (Ph.D.). Calvert will give a  thought-provoking speech titled "Free Speech and Public School Students — Lessons From a Cursing Cheerleader and South Park."
After the day's formal events conclude, Hussman Ph.D. student Evan Ringel will host a virtual First Amendment trivia event (Zoom link here or access at https://tinyurl.com/firstatrivia22) allowing community members to put their knowledge to the test through a series of First Amendment-related questions. Gift certificates from Chapel Hill bookstores Epilogue Books and Flyleaf Books are offered as prizes.
First Amendment Day has been a UNC tradition since 2009, and it is always observed during National Banned Books Week. The day is designed to celebrate the First Amendment and explore its role in the lives of UNC students—from social media use to political involvement. First Amendment day gives UNC community members the opportunity to discuss the public university's special role as a marketplace of ideas and the need to be tolerant when others exercise their rights.
First Amendment Day is organized by the UNC Center for Media Law and Policy and is one of the highlights of the year for the UNC community. See the full schedule of events at firstamendmentday.unc.edu, and follow the festivities on Twitter via #UNCFree.