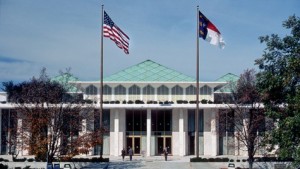 According to a recent Pew Research Center report, the number of reporters covering their statehouses has dropped 35% over the past decade. The study found a loss of 164 full-time statehouse reporters across the nation and more than two-thirds of U.S. newspapers without a statehouse reporter at all. Given the media's role as watchdog for the government, this should be cause for public concern.
With fewer full-time journalists devoted to covering legislative matters at the state level, many journalists, legislative leaders, and industry observers fear that the public will not be kept informed of important policy decisions that will affect their daily lives. Part-time coverage, while valuable, may result in journalists missing critical stories or context that comes from being stationed at statehouses full-time. This could impact their ability to hold state politicians accountable.
Non-traditional outlets and state officials have attempted to fill the "reduction in coverage." However, it does not make up for the numbers of jobs lost or alleviate concerns about the inherent bias of a state covering its own activities.
Daily Tar Heel reporter, Amanda Albright, sees the shrinking statehouse press corps as a call to action. In her article titled "A silver lining in Pew's statehouse press report," she encourages college journalists to step up and provide valuable oversight of state government. According to the Pew report, college students already make up 14 percent of all state capitol reporters.
Looking at Pew's state-by-state data, N.C. has 47 statehouse reporters, 18 of which are full-time. While this is far from the lowest numbers in the country (South Dakota only has 2 full-time state house reporters), N.C. could still use more "watchdogs" based on the state's population, the length of its legislative sessions, and arguably the average number of bills introduced at the statehouse.
The North Carolina General Assembly has taken action on over 400 bills this short session and will continue to tackle important issues such as the state budget until they adjourn. Their decisions will affect the lives of nearly 10 million North Carolinians. It is critical that the public be informed.