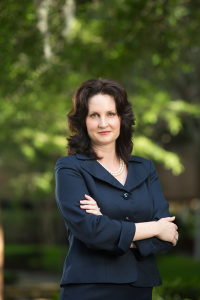 I'm thrilled to announce that Amanda Reid has joined the UNC Center for Media Law and Policy as faculty co-director of the Center.  Amanda is an associate professor at the UNC Hussman School of Journalism and Media and holds a secondary appointment at the UNC School of Law. She is replacing Tori Ekstrand, who served as the Center's faculty co-director from 2018-2020. Tori has moved into a new role as the Caroline H. and Thomas S. Royster Distinguished Professor for Graduate Education at UNC-Chapel Hill.
Amanda's research is anchored around the First Amendment. She analyzes the freedoms and limitations imposed on meaning-making processes, including how substantive laws and procedural rules impact—both positively and negatively—our ability to encode and decode meaning.  Her scholarly inquiries range from the free speech implications of copyright regulation of Internet radio to the visual presentation of roadside memorial crosses and the separation of church and state.
Amanda, who earned a Ph.D. and J.D. from the University of Florida, has long contributed to the work of the Center by assisting with our M.A./J.D. and Ph.D./J.D. dual-degree programs in media law. With her training in both journalism and law, Amanda is uniquely well-suited to help grow the dual-degree program and assist in our ongoing work producing interdisciplinary research and scholarship examining how media law and policy can help traditional and new media meet the information needs of all Americans.
"I look forward to working with my brilliant colleagues and terrific students to host important conversations," Amanda told me. "This is a vital moment to facilitate meaningful discussions about our First Amendment values."