It's almost time for what we at the UNC Center for Media Law and Policy think is the best day of the year! On Tuesday, Sept. 26, UNC will celebrate its ninth-annual First Amendment Day! This day of events is one of the highlights of the year at the Center, and we are thrilled to share it with our wonderful campus.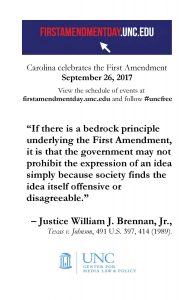 We have an exciting schedule for our day-long event this year.  From public readings of banned books to panels on the state of campus speech, this year's First Amendment Day is sure to foster meaningful discussion about the state of the First Amendment as well as the University's unique role in the marketplace of ideas.
This year's Opening Ceremony will kick-off the day at 9:30 a.m with great speakers, including Center Co-Directors Dr. Cathy Packer and Professor David Ardia. In addition, we will hear from School of Media and Journalism Dean Susan King and UNC student body president Elizabeth Adkins. Next will be a student debate on Ethics and the First Amendment at 11:00 a.m. The debate will cover two issues: offensive speech in comedy performances and limitations on religious freedoms in the U.S. military. Following the debate, the Law School will host a panel on the Future of Free Expression, which will include a discussion of the state's recent Campus Free Speech Act. Panelists include N. C. Rep. Jonathan Jordan and Professor Mary-Rose Papandrea, UNC Law's Dean of Academic Affairs.
Starting at noon, members of the Coalition of Youth Librarians (COYL) and others from the UNC School of Information and Library Science (SILS), including SILS Dean Gary Marchionini, will participate in a reading of books that have been banned from school and public libraries. The readings will continue until 2:30 p.m.
To kick off the afternoon, retired Marine Corps sergeant and investigative journalist Thomas Brennan will speak at the at the Reese News Lab in Carroll Hall at 1:00 p.m., discussing how his work led to Congressional investigations and reform earlier this year. Next, we will tackle the state of campus speech at UNC directly with the panel titled, "Who Can Speak at Carolina?" The panel will include speakers from across campus, including Gabbie Johnson, a recent UNC Law grad and participant in the Silent Sam sit-in; Carolina Review and Daily Tar Heel contributors; and the Center's own Research Fellow, Rachael Jones. Then, at 3:30 p.m., UNC student journalists from The Daily Tar Heel, Carolina Week, and other student publications will discuss how their work is affected by negative public opinion about the press, social media, and more.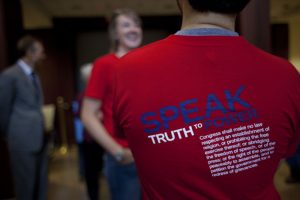 Leading up to our keynote address, the Carolina Ukulele Ensemble will celebrate the right to make music in Carroll Hall starting at 6:30 p.m. Finally, our keynote speaker, Professor Bill Adair, will discuss the future of the free press. Professor Adair is the creator of the Pulitzer Prize-winning website Politifact. He is the director of the DeWitt Wallace Center for Media and Democracy and the Knight Professor of the Practice of Journalism and Public Policy at Duke University.
To wrap up our free-speech-filled day, we are hosting a First Amendment Trivia night at Linda's Bar and Grill! The questions start at 8:00 p.m. You can compete to test your knowledge of the First Amendment rights or simply sit back and enjoy the fun. Either way, it will be a fun (and competitive) end to a great day.
We hope to see everyone at our many events this year! For more information on the schedule, events, speakers, and history of First Amendment Day, visit our webpage. Don't forget to share your photos and thoughts from the day with us by using the hashtag #uncfree! If you have any questions, feel free to contact the Center.
See you Tuesday!