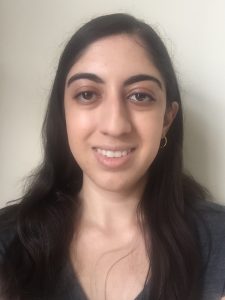 UNC media law student Mariam Turner is among a group of faculty and graduate students who have won a $10,000 research award from the Association for Education in Journalism and Mass Communications' Mass Communication and Society Division. The award, which was announced over the summer, was given to Dr. Daniel Riffe and Dr. Adam Saffer from the UNC School of Media and Journalism.  However, students were the forces behind the grant application.
The study will look at the interlocking of U.S. media company boards of directors, and how much this influences media content. The idea arose in Dr. Riffe's Theories of Media Processes & Procedures course last spring. Mariam, who was a student in that class, plans to help with data collection, the literature review, and creation of the survey.
Mariam is in the third year of UNC's four-year dual-degree program. In this program, which is administered by the UNC Center for Media Law and Policy, she'll earn both a J.D. and a master's degree in mass communication.
Go, Mariam!