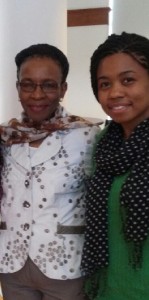 On Tuesday, April 7, I had an opportunity to speak with the Honorable Thokozile Matilda Masipa, a judge in the Gauteng Division of the High Court of South Africa.  Many know her as the judge who presided over the high profile Oscar Pistorius murder trial, but it's the story of how she overcame seemingly insurmountable odds to become the second black woman admitted to the bench in South Africa that inspires me. 
Judge Masipa grew up in the poor, black township of Soweto under the South African apartheid regime. Opportunities for minorities were almost nonexistent.  Determined to help others, Judge Masipa pursued a degree in social work and then later spoke out against injustices as a journalist.  She once was arrested and jailed overnight for protesting the government's attempts to suppress the media. 
Participating in the anti-apartheid movement sparked Judge Masipa's interest in the law.   The full-time journalist, wife and mother spent 10 years completing her law degree. 
She quickly earned the respect of her colleagues and took on more and more challenging cases as a lawyer. In 1998, five judges nominated her, and she was appointed to the bench. It was not her plan to become an activist or a judge.  She explained, "[B]ecoming an advocate is not a choice, it is imposed on you.  It's the environment that you grow up in. You know that if you do not do something, you will perish."
Judge Thokozile Masipa is a former student of Kenneth Broun, professor emeritus at UNC School of Law.  She delivered the 2015 William P. Murphy Distinguished Lecture on Monday, April 6.  Many thanks to Professor Broun and UNC for bringing such a distinguished guest to our campus!
Chanda Marlowe is a 2L at the University of North Carolina School of Law