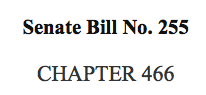 A new California law may cause potential revenge porn posters to think twice before exploiting ex-lovers online.
California Governor Jerry Brown signed Senate Bill No. 255 on October 1. The new law will aid potential victims of "revenge porn" — those individuals whose sexually explicit photos and videos are posted online by (typically) ex-lovers — by making it a misdemeanor to post such graphic images or video "with the intent to cause serious emotional distress." Defendants who violate the law could land a place in jail for up for 6 months or be fined up to $1,000.
The newly-passed law is already receiving criticism about its limited scope of protection. Critics argue that because the law does not protect against the posting of photos that were self-shot by the victims, a large number of individuals who submit revenge porn posts will remain protected. Rather, the law targets only those photos posted which were taken by the poster.
One of the fundamental cornerstones of copyright law holds that copyright rights are given to the author of the work. One possible remedy for those who have been exposed due to revenge porn is filing a takedown notice under the Digital Millennium Copyright Act. The takedown notice requires that the owner of a website remove some content due to a copyright claim made by the owner of that content.
The American Civil Liberties Union also opposed the bill, citing concerns that the bill was overly vague.
Samantha Scheller is a 2L at UNC Law.