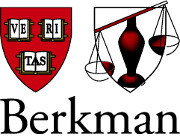 If you are a lawyer (or law student) looking for a chance to learn about Internet Law, Privacy, Copyright etc., you can't do better than to spend some time at Harvard's Berkman Center for Internet & Society (full disclaimer: I spent 5 years there myself). If you don't believe me, read Tabitha Messick's account of  her internship at Berkman last summer.  For those you looking for that kind of experience, I've got two announcements to pass along.
First, they are looking for a full-time legal fellow to join the Berkman Center's Privacy Tools for Sharing Research Data Project:
This project is a collaboration with Harvard's Center for Research on Computation and Society (CRCS) and the Institute for Quantitative Social Science (IQSS), generously funded by National Science Foundation.  It aims to develop computational and legal methods, tools, and policies to further the tremendous value can can come from collecting, analyzing, and sharing data while more fully protecting individual privacy.

The fellowship is a great opportunity for experienced legal practitioners who want to serve the public interest, transition to academic pursuits, or work in an intellectually invigorating environment.  The fellow's primary responsibilities are to provide managerial support and substantive contributions to the Berkman Center's role project, including but not limited to:

working closely with faculty from the Berkman Center to coordinate, oversee, and conduct legal research, written project outputs, and publications;
cultivating and supporting relationships between faculty and other experts in law, social science, applied mathematics, computer science, and other fields to understand non-legal substantive issues and objectives, assess needs and capabilities, and collaboratively develop new legal instruments (e.g., contractual agreements, policies, and procedures) to meet the project's broader goals;
planning, communicating, and implementing privacy-related workshops and convenings;
managing the selection, oversight, and mentorship of student interns and research assistants;
developing plans and timelines to advance project priorities and meet deadlines; and
providing additional project support.

In order to most fully and efficiently carry out his or her duties, the candidate will attend workshops and conferences at the Center and at Harvard Law School, and will have frequent opportunities to expand his/her knowledge of technology and law.

More information about the position and the application process is below and at http://cyber.law.harvard.edu/getinvolved/fellowships/privacy.
Second, applications are now open for the 2013 summer internship program, which provides an opportunity to work on a more than a dozen "awesome" projects.  If you want to know more about what it's like to be a law student at Berkman, read Tabitha's blog post: A UNC Student's Summer Experience in Media Law.  Act fast, however, as applications are due on Sunday, February 10, 2013 at 11:59 p.m. ET.