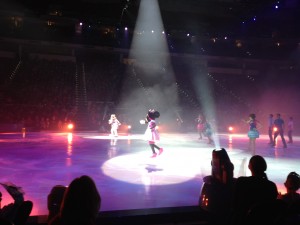 Many of us are all too familiar with Disney's role as the engine behind the Copyright Term Extension Act of 1998 and as an ironic beneficiary of the public domain and its importance to society.
Suffice to say Disney's role in helping to broaden copyright protections in the last two decades is well-known…and often a sore spot for those of us concerned about the over-expansion of copyright.
All that, however, is lost on my 9-year-old daughter and her 4-year-old cousin, who spend as much time as possible recreating every Disney Princess story there is – and inventing a whole host of derivative works, mostly on the floors of their playrooms.
When "Disney on Ice" announced it was coming to town, there was little question that we would go. And so I prepared myself to be assaulted by the Disney machine and its confines. (And I questioned my own loyalty to the free culture movement and the public domain.)
So you can imagine my surprise when the announcer told us that photography of the performance was permitted, "for personal use only please."
Disney embracing fair use?! And politely, too!
(Fair use photography by Jennifer Smeltzer Smith).