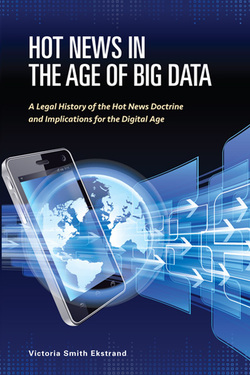 Dr. Victoria "Tori" Smith Ekstrand, the director of communications for the UNC Center for Media Law and Policy, has recently published a book, Hot News in the Age of Big Data: A Legal History of the Hot News Doctrine and Implications for the Digital Age (LFB Scholarly).  
Ekstrand is an expert on the hot news doctrine, a part of unfair competition law that protects the facts of news for a short period. Her book examines the doctrine's nearly 100-year history and its continued ability to preserve the economic value of news and information for its creators. Though declared dead by some, Ekstrand argues, the doctrine is very much alive as common law and has significant implications for the new age of big data.
Dr. Ekstrand is an assistant professor in the School of Media and Journalism at UNC and a former executive for The Associated Press in New York City.
Congratulations, Tori!