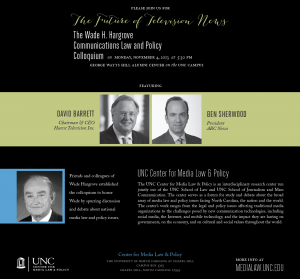 We are pleased to announce that on November 4, 2013, the Center will host the inaugural Wade H. Hargrove Communications Law and Policy Colloquium. Friends and colleagues of Wade Hargrove established the colloquium to honor Mr. Hargrove, a graduate of the University of North Carolina at Chapel Hill and an accomplished media lawyer, by spurring discussion and debate about national media law and policy issues.
This year's colloquium speakers will be David Barrett, chairman and CEO of Hearst Television Inc., and Ben Sherwood, president of ABC News, who will talk about "The Future of Television News."  Mr. Barrett and Mr. Sherwood will make brief opening remarks and then engage in a wide-ranging discussion about the challenges and opportunities media companies face in this age of digital convergence.
The colloquium  is free and open to the public.  For more information, please visit our event page.
About David Barrett
David Barrett joined Hearst in 1984 as general manager of the company's Baltimore radio stations, later assuming general manager responsibility for the Hearst Radio Group, and then for WBAL-TV in Baltimore. He relocated to New York in 1991 as a vice president of Hearst Corporation and deputy general manager of Broadcasting, with operating oversight for the company's television and radio stations. In 1997, Hearst Broadcasting merged with Argyle Television to form Hearst-Argyle Television, Inc., and he was named executive vice president and chief operating officer of the new entity. He was named president and chief executive officer in 2001.
Mr. Barrett has been the recipient of numerous industry honors. In 2011 he received the DiGamma Kappa Distinguished Achievement Award in Broadcasting from the University of Georgia's Grady College of Journalism, which bestows the annual Peabody Awards, and the First Amendment Leadership Award from The Radio Television Digital News Foundation. In 2008 he was inducted into the Broadcasting & Cable Hall of Fame. In 2005 he was the recipient of The Media Institute's American Horizon Award and was also inducted into the National Academy of Television Arts and Sciences Management Hall of Fame. In 2004 he was named Broadcasting & Cable magazine's "Broadcaster of the Year."
About Ben Sherwood
Ben Sherwood was named president of ABC News in December 2010. He is responsible for all aspects of ABC News' broadcasts, including "World News with Diane Sawyer," "Nightline," "Good Morning America," "20/20" and "This Week with George Stephanopoulos." In addition, Mr. Sherwood oversees ABC News Radio, ABCNEWS.com, satellite service NewsOne and ABC News NOW. During Mr. Sherwood's tenure the news division has won the most prestigious honors in the industry, including George Polk, George Foster Peabody, News and Documentary Emmy, Edward R. Murrow, Overseas Press Club, SPJ Sigma Delta Chi and Investigative Reporters and Editors awards.
A Phi Beta Kappa graduate of Harvard College, Mr. Sherwood earned a bachelor's degree in American government and history. From 1986 to 1989, as a Rhodes Scholar at Magdalen College, Oxford, he earned master's degrees in British imperial history and development economics.