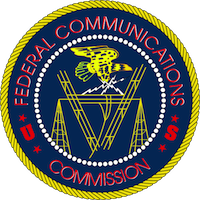 As I mentioned back in March, the Center provides summer grants to UNC law and graduate students who have unpaid or low-paying public interest jobs in the field of media law or media policy. (I hope some of you will apply for a grant next year!)  If you have been reading Natasha Duarte's posts this summer, you have a sense of the amazing experience she had at the Electronic Frontier Foundation.
Well, Natasha wasn't the only UNC student who had a great summer experience. Below you will find a summary of Minisha Patel's internship at the Federal Communications Commission.  Minisha is a 3L at the UNC School of Law.
The summer of my second year of law school, I worked as an intern for the Federal Communications Commission (FCC). While at the Commission, I worked in the Wireline Competition Bureau, the Commission's largest and most important bureau. I worked on the Lifeline program, which is a FCC program created in order to aid low-income individuals by providing them with the opportunity to have discounted phone service. The sole purpose of the Lifeline subsidy is to enable low-income individuals to have the same access to telecommunications as the rest of the population. The Lifeline program's goal is to connect low-income individuals and aims to enable them to access jobs, health care services, schools, and emergency contacts. The program was created by the Reagan administration but is more popularly known as the Obamaphones.

This summer was a very critical time for the Lifeline program as the telephone carriers and subscribers receiving discounts from the program were defrauding the program. This summer, I worked alongside the FCC attorneys to help create a database and stop the carrier's that are most liable for frauding the system. In addition, I Engaged in legal research and writing in conjunction with several major rulemakings and adjudicatory proceedings, drafted public notices, small business compliance guides, and comment summaries. I also analyzed specific areas of telecommunications law and administrative law and produced memoranda to assist FCC attorneys. Throughout the course of the internship, I worked directly with attorneys on assigned subject matter and attended meetings on a bi-weekly basis.

This internship helped me gain knowledge about interpreting regulations and taught me about the inner workings of the Federal Communications Commission. The internship further enabled me to understand how the government operates with respect to media and telecommunications law.