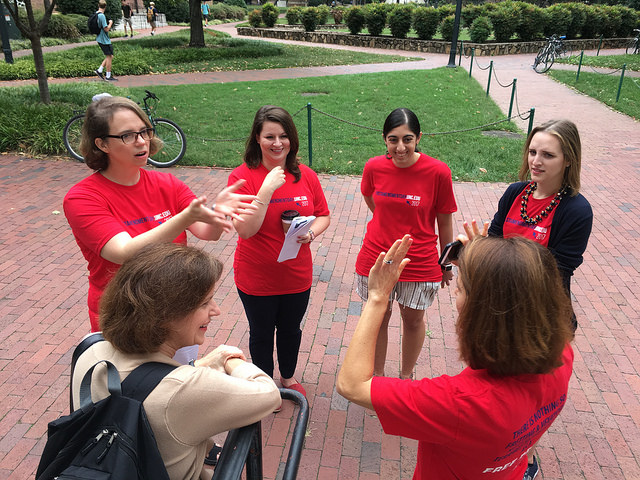 UNC's ninth-annual First Amendment Day was held on September 26, 2017.
First Amendment Day was organized by the UNC Center for Media Law and Policy and is truly one of the highlights of the year for the UNC community. You can read about the festivities on Twitter via #UNCFree.
First Amendment Day Events
---
First Amendment Day Opening Ceremony               
Front Steps of Carroll Hall 9:30 am - 10:00 am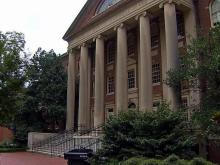 Help us kick off Carolina's ninth-annual First Amendment Day!
Several members of the Carolina community will speak about our First Amendment freedoms and the value of those freedoms to UNC's mission, to our democracy, and to ourselves.
These are the people who will speak:
David Ardia, associate professor in the UNC School of Law and co-director of the UNC Center for Media Law and Policy.
Susan King, dean of the UNC School of Media and Journalism.
Cathy Packer, W. Horace Carter Distinguished Professor in the UNC School of Media and Journalism and co-director of the UNC Center for Media Law and Policy.
Elizabeth Adkins, UNC's student body president and a senior journalism and political science major, will read the First Amendment.
This event was organized by UNC School of Media and Journalism Associate Professor Michael Hoefges.
---
Ethics and the First Amendment in Conflict: A Student Debate               
Reese News Lab in the basement of Carroll Hall 11:00 am - 12:15 pm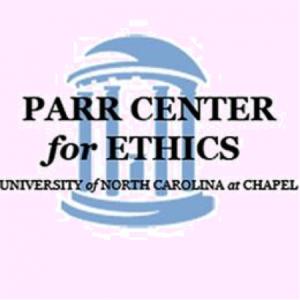 The UNC Intercollegiate Ethics Bowl Team will debate two timely ethical issues related to the freedoms protected by the First Amendment.
The first issue concerns the moral limits of comedy. On the one hand, the First Amendment suggests comedians should be allowed to say anything they want in order to get a laugh. However, a great deal of comedy is offensive to certain people or groups, so there is a concern that by allowing comedians to say offensive things, we are condoning harm to certain groups. What should be done?
The second issue is the limits of religious freedom in the U.S. military. The debaters will consider the case of a Sikh man whose religious commitments involve wearing a turban and not cutting his hair. The question is whether he should be granted exemptions from military policies that require him to violate his religious commitments.
These are the debaters:
Jason Scanlan, a senior sociology and Peace, War, and Defense double major from East Northport, N.Y.
Wyatt Plaga, a  sophomore philosophy and psychology double major from Raleigh.
Ruth Tomlin, a sophomore philosophy major from New Haven, Conn.
Scott Harn, a sophomore philosophy and public policy double major from Charlotte.
Jack Gilewicz, a sophomore philosophy major from Raleigh.
Chiwoo Park, a senior biology major from Durham.
Alex Bennett, a senior biology and philosophy double major from Huntersville.
Justin Christman, a sophomore economics major from Kinston.
Jacky Wang, a junior philosophy and computer science double major from Brooklyn, N.Y.
Alec Way, a junior economics and philosophy double major from Raleigh.
Jessie Aney, a junior business administration major from Rochester, Minn.
The team's coach is Ian Cruise, a graduate student in UNC's philosophy department.
---
The Future of Free Expression? A Panel Discussion on the "Campus Free Speech Act"               
Classroom 5046, UNC School of Law 12:00 pm - 12:50 pm


Join us on First Amendment Day at the UNC School of Law for a discussion on Session Law 2017-196, titled "An Act To Restore and Preserve Free Speech On the Campuses of the Constituent Institutions of the University of North Carolina".
This recently enacted law affects free expression on campus in multiple ways. Interested in how? Join us to hear a panel of extremely knowledgeable people discuss and debate the ramifications of this new law. This event is being organized by the Media Law Society at the UNC School of Law and will be moderated by Prof. David Ardia. Pizza will be served, courtesy of the wonderful UNC Center for Media Law and Policy!
Panelists will include:
For parking information, please visit the law school's website.
---
Banned Book Reading               
Front steps of Manning Hall 12:30 pm - 2:30 pm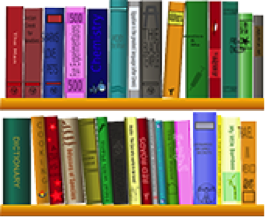 Come out to hear members of the Coalition of Youth Librarians (COYL) and others from the UNC School of Information and Library Science (SILS) support your right to read! The members of COYL – all graduate students in SILS – have organized a reading of children's and adult books that have been banned from school and public libraries.
SILS Dean Gary Marchionini will be the opening reader.
---
Investigative Reporting: Breaking the Marines United Story               
Reese News Lab in the basement of Carroll Hall 1:00 pm - 2:00 pm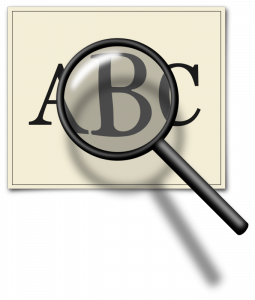 Thomas Brennan, a Marine Corps sergeant who retired in 2012 and became an investigative journalist, will discuss how he broke the nude photo sharing scandal in the military earlier this year, forcing Pentagon and Congressional investigations and changimg the law governing sexual exploitation in the Department of Defense. Brennan, who now lives in Jacksonville, N.C., will explain how he reported and sourced the Marines United story, and how he responded to criticism.
Brennan holds a master's degree in investigative journalism from Columbia University and is the founder of The War Horse, a nonprofit newsroom that covers the U.S. Department of Defense and Veterans Affairs. His work has been published in The New York Times, Vanity Fair, and the Center for Investigative Reporting, among others publications. He and combat journalist Finbarr O'Reilly co-authored the memoir "Shooting Ghosts," which the Kirkus book review website called "a courageous breaking of the code of silence to seek mental health for veterans and the war-scarred." For more information about Brennan and his work, visit Shooting Ghosts.
This event was organized by The Daily Tar Heel and is sponsored by Reese News Lab.
---
Who Can Speak at Carolina? The State of Free Expression at UNC               
Room 33, Carroll Hall 2:00 pm - 3:15 pm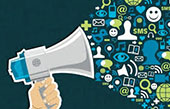 UNC students returning to campus this fall have witnessed a remarkable series of debates about student expression at Carolina. After a march by white nationalists in Charlottesville, Va., resulted in the death of a counter-protestor, fears that UNC's Silent Sam could encourage similar violence prompted campus officials to enact new rules about assembly near the statue, among pleas and protests by some that Silent Sam be removed altogether. Not long after, UNC officials denied a request by white nationalist Richard Spencer to speak on campus. Students were also excluded from a recent meeting by the UNC Board of Governors, which decided to prohibit the UNC Center for Civil Rights – and the students working for it — from engaging in litigation. The environment has created challenging conversations both inside and outside UNC classrooms. In this panel, students will explore the state of student expression on the UNC campus as well as efforts by state officials to monitor and influence campus expression.
These are some of the panelists:
Gabbie Johnson is a recent UNC law school graduate who has been part of the Silent Sam sit-in.
Will Rierson, associate editor of The Carolina Review, is a junior studying public relations and political science. He is from Winston-Salem.
Rachael Jones, J.D., is a research fellow at the UNC Center for Media Law and Policy.
Alexander Peeples, senior, history and political science major and DTH columnist.
Diandra Anna-Kay Dwyer, senior, Gates Millennium and Robertson Scholar.
Mark W. Merritt, Vice Chancellor and General Counsel, UNC.
Jada Harkins Andrews, senior Ronald E. McNair scholar, double majoring in broadcast journalism and political science.
---
A Bumpy Ride: How UNC's Student Journalists Are Navigating Today's Media Landscape               
Freedom Forum Conference Center on the Third Floor of Carroll Hall 3:30 pm - 4:45 pm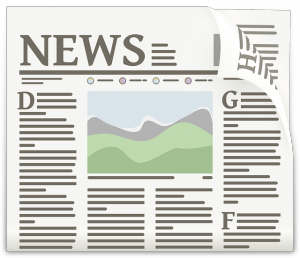 UNC student journalists from The Daily Tar Heel, Carolina Week and other student publications will discuss how they and their work are affected by negative public opinion about the national media; the ability of government officials to bypass traditional media and communicate directly with the public through social media; advertisers' increasing use of social media; and more.
These are the student journalists who will participate in this panel discussion:
Tyler Fleming, editor of The Daily Tar Heel.  Tyler is a senior political science and history major from Randleman, N.C.
Rachael Scott, a senior broadcast journalism student who also majors in Peace, War and Defense.  She is from Greensboro.
Alec Dent, editor of The Carolina Review.  Alec is a junior journalism major studying broadcasting.  He is from Lumberton, N.C.
Leah Asmelash, university desk editor for The Daily Tar Heel.  She is a senior double majoring in journalism and global studies and is from Greensboro.
Margaret High, a junior journalism and European history major.  She is from Whiteville, where she has worked as a reporter for the local newspaper.
Bailey Inglis, a senior broadcasting and religious studies major from Cary.  She is a reporter and anchor for Carolina Week, the MJ Shool's cable tv news show.
The moderator will be Torin Edwards, a junior double majoring in information science and multimedia journalism.  He is from Apex.
---
Carolina Ukulele Ensemble               
Room 111, Carroll Hall 6:30 pm - 7:00 pm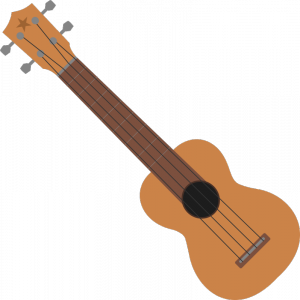 The Carolina Ukulele Ensemble, which claims to be "the happiest group on campus," will perform for 30 minutes prior to the First Amendment Day keynote address. Beginning as a small gathering of students meeting weekly to jam on the quad in 2010, over the years the group developed into the audition-based ensemble it is today. Playing anything from 70s funk to 90s R&B, the ensemble is all about challenging what can and should be played on a ukulele.
Come and help celebrate your right to make music!
You can see a performance here.
---
Bill Adair: The Enemy of the American People and the Future of a Free Press               
Room 111, Carroll Hall 7:00 pm - 8:15 pm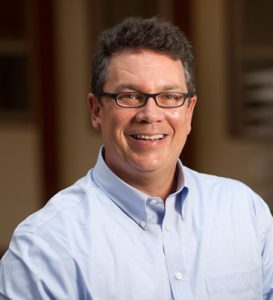 Before the keynote address, Chancellor Carol Folt will make brief remarks about free expression at Carolina.
The 2017 First Amendment Day keynote speaker will be Bill Adair, the Knight Professor of the Practice of Journalism & Public Policy and director of the DeWitt Wallace Center for Media and Democracy at Duke University.
One of 25 Knight Chairs at universities around the country, Adair's research and teaching focuses on fact-checking and new forms of journalism.
The creator of the Pulitzer Prize-winning website PolitiFact, Adair has been recognized as a leader in new media and accountability journalism. He worked for 24 years as a reporter and editor for the Tampa Bay Times (formerly the St. Petersburg Times) and served as the paper's Washington Bureau Chief from 2004 to 2013. He launched PolitiFact in 2007 and built it into the largest fact-checking effort in history, with affiliates in 11 states. In 2013, he managed the site's first international expansion with the launch of PolitiFact Australia.
Adair has lectured about fact-checking and new media at conferences and universities around the world. He has made hundreds of appearances on television and radio on programs such as the Today Show, Nightline, Morning Edition, All Things Considered, Reliable Sources, C-SPAN's Washington Journal and the Colbert Report.
His awards include the Pulitzer Prize for National Reporting (with the PolitiFact staff), the Manship Prize for New Media in Democratic Discourse and the Everett Dirksen Award for Distinguished Coverage of Congress.
---
First Amendment Trivia Contest               
Linda's Bar and Grill 8:00 pm - 10:30 pm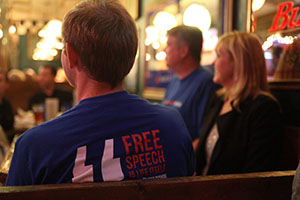 What rights are explicitly protected by the First Amendment? Which U.S. Supreme Court justice said obscenity was difficult to define but "I know it when I see it"? Enter the trivia contest and test your knowledge of this most important Constitutional amendment.
If you don't want to compete, come to watch and enjoy the fun. You do not need to be 21. There will be prizes! The contest MC will be "Rockin' Rhonda" Gibson, whose day job is teaching in the UNC School of Media and Journalism. This event is being organized by Kyla Garrett Wagner, a Ph.D. student in the UNC School of Media and Journalism.
---