Date/Time
Date(s) - 09/25/2018
11:00 am - 12:15 pm
Location
Freedom Forum Conference Center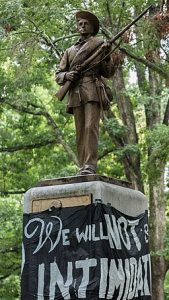 After the toppling of UNC's confederate monument, Silent Sam, conversations have re-emerged about the role of public art and public memorials on North Carolina's campuses and other public property. The way artists memorialize history is changing. Current artists are more likely to challenge the viewer's perspective rather than memorialize a single person or event. In addition, when such art is located on public property, the First Amendment may be at issue; questions about support and sponsorship of such art and memorials are often raised. Within North Carolina, the North Carolina Historical Commission also plays a role in the display and approval of some work.
This panel of art, history, and legal experts will explore the range of issues posed by these realities:
What is the importance of public art and memorials? How do artists memorialize the past in public art and how has that changed over time? What is the public's role, if any, in that process? How do universities, artists and other stakeholders navigate this process? What have courts said about the First Amendment, public art and public memorials? Who exactly is "speaking" when public art and public memorials are erected?
Panelists include:
Cary Levine, Associate Professor, Contemporary Art
Cody A. Johnson, UNC College Republicans and School of Media and Journalism
Zac Parker, 4th-year Ph.D. student, Department of Communication
Amanda Reid, Assistant Professor, School of Media and Journalism
Jeremiah Rhodes, junior photo and video journalist, School of Media and Journalism
Erika Wilson, T

homas Willis Lambeth Distinguished Professor in Public Policy, School of Law

Moderator: Kriste Patrow, 4th-year Ph.D. student, School of Media and Journalism

Tagged: 1AD2018
---