Date/Time
Date(s) - 09/25/2018
2:00 pm - 3:15 pm
Location
Freedom Forum Conference Center, third floor, Carroll Hall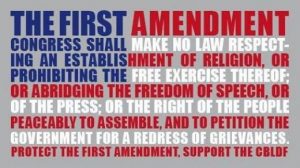 Much of First Amendment law relies on the doctrine of counterspeech, a principle that suggests the answer to false or harmful speech is more speech. As U.S. Supreme Court Justice Louis Brandeis once wrote: "If there be time to expose through discussion the falsehood and fallacies, to avert the evil by process of education, the remedy to be applied is more speech, not enforced silence."
The doctrine of counterspeech, however, relies on many assumptions about the First Amendment's marketplace of ideas. It assumes that all speakers have equal access to speak. It assumes all speakers are heard. It assumes all speakers are treated fairly.
In 2018, many would say such assumptions are under serious duress and have been for some time. After the recent toppling of Silent Sam, UNC's confederate monument, UNC's own counterspeech atmosphere has faced significant challenge, with accusations of racism, mob rule, and political partisanship and stalemate.
What would a more inclusive and successful counterspeech environment at Carolina look like? What could we do as students, faculty, and administrators to change the culture of speech and counterspeech at Carolina? In this panel, students and others will explore the state of counterspeech on the UNC campus and consider the hurdles to productive debate and policy.
Panelists include:
Deb Aikat, Associate Professor, UNC Faculty Executive Committee & School of Media and Journalism
Bob Blouin, UNC Executive Vice Chancellor and Provost
Erica Bluford, President, Black Law Students Association, School of Law & School of Social Work
Zach Kosnitsky, Online Editor at The Carolina Review and Daily Tar Heel Columnist
Sarah Lundgren,  Online Managing Editor, The Daily Tar Heel, and senior, School of Media and Journalism
Steve May, Associate Professor, Department of Communication
Savannah K. Putnam, UNC Student Body President; senior, Political Science and Communication
Moderator: Tori Smith Ekstrand, Associate Professor, School of Media and Journalism

Tagged: 1AD2018
---