Date/Time
Date(s) - 01/25/2019
12:00 pm - 1:15 pm
Location
Freedom Forum Conference Center, Carroll Hall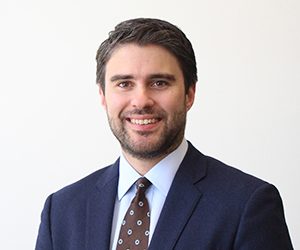 On Friday, Jan. 25, the UNC Center for Media Law and Policy will host an interdisciplinary lunch with Dr. Jonathan Peters, assistant professor at the University of Georgia's Grady College of Journalism and Mass Communication and press freedom correspondent at the Columbia Journalism Review (CJR). Dr. Peters will lead a discussion about the state of media in 2019 and the modern fight for press freedom. The lunch is open to all UNC faculty and graduate students.
New media are reshaping journalism and challenging long-held legal principles. It's the First Amendment's job to keep up—to breathe life into the freedoms of speech and press, no matter the media of the day. In our current political and cultural moment, this has never been more important. Elected officials are denouncing the press daily. Critics are assaulting reporters who cover protests. Law enforcement officials are arresting journalists more frequently, and wealthy citizens are more aggressively suing the Fourth Estate. Meanwhile, public opinion of the press is low, and surveys show that Americans are poorly informed about the rights and boundaries of the First Amendment. Dr. Peters will address these phenomena and the work that lies ahead for First Amendment press advocates.
Dr. Peters researches communication law and policy. He studies how Internet companies make decisions regarding the content they host and the speech they intermediate, along with the role that First Amendment principles play in informing and checking those decisions. He also studies how new media are reshaping the gathering, production, and distribution of news and information, with the effect of challenging long-held legal principles. Dr. Peters has published articles in a variety of top journals, including the Berkeley Technology Law Journal, the Harvard Law and Policy Review, the Federal Communications Law Journal, and the Fordham Intellectual Property, Media and Entertainment Law Journal.
In addition to his work as press freedom correspondent for CJR, Dr. Peters has written about legal issues for other news organizations, including Esquire, The Atlantic, Slate, Wired, and CNN. He has also written about the NHL for Sports Illustrated. He is a frequent commentator on First Amendment issues for such outlets as The Washington Post, The Wall Street Journal, The Los Angeles Times, NPR, PBS, CNN, Politico, The Associated Press, and The Guardian, among others. In addition, his work has been noted by John Oliver's "Last Week Tonight" and Jon Stewart's "The Daily Show."
Dr. Peters is a volunteer First Amendment lawyer for the Student Press Law Center and the ACLU, and he has conducted media law seminars for dozens of organizations, most recently the radio program "This American Life" and the investigative podcast "Serial." He participates annually in the U.S. Department of State's Edward R. Murrow Program for Journalists, in which he has trained editors and journalists from over 20 countries in First Amendment concepts, examining the rights and responsibilities of a free press in a democracy. He also recently completed a project to develop legal guidelines for press rights at peaceful assemblies in Europe, working with the Organization for Security and Co-operation in Europe, based in Vienna, and the Office for Democratic Institutions and Human Rights, based in Warsaw.
January's lunch discussion will be held from noon to 1:15 pm on Friday, Jan. 25 at the UNC School of Media and Journalism, Carroll Hall 3rd floor Freedom Forum Conference Center.
Lunches and drinks will be provided for those who register. RSVP using the form below by noon on Wed., Jan. 23.
Background reading:
RSVP

Warning: count(): Parameter must be an array or an object that implements Countable in /opt/app-root/src/wp-content/plugins/events-manager/templates/placeholders/bookingform.php on line 16


Website RSVP are closed for this event. Please email shaocy@live.unc.edu to inquire about RSVPing.


Tagged: Interdisciplinary Lunch Series
---