Date/Time
Date(s) - 11/20/2015
12:00 pm - 1:15 pm
Location
Marion A. Cowell, Jr. Boardroom (Room 5003), UNC School of Law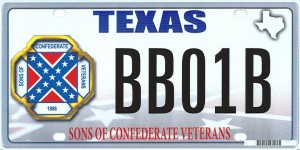 On Friday, Nov. 20, the UNC Center for Media Law and Policy will host an interdisciplinary lunch open to faculty and graduate students from across the UNC system.  Professor Mary-Rose Papandrea from the UNC School of Law will discuss the potentially significant impact of the Supreme Court's most recent decision involving the government speech doctrine.
In Walker v. Texas Division, the Sons of Confederate Veterans, Inc., the Supreme Court held that Texas was not required to accept from the Sons of Confederate Veterans an application for a specialty license plate. Although Texas offers (at last count) over 400 specialty license plates and has virtually never turned down a specialty license application, the Supreme Court accepted Texas's argument that speech on specialty license plates was not private speech but rather "government speech" to which the usual First Amendment prohibitions against viewpoint-based discrimination did not apply. The decision did not rest on the alleged offensiveness of the Confederate flag. Walker's new test for government speech, which largely relies on an  inquiry into whether a "reasonable observer" would believe the government is speaking, is likely to have a significant impact on the speech rights of students and government employees, government-operated websites, trademark law, and other circumstances in which the government seeks to restrict to speech of private actors. Professor Papandrea argues that the Court's failure to appreciate that the government's tolerance of private speech is not the same as the endorsement of that speech poses a potentially grave threat to the future of free speech rights in this country.
A free lunch will be served to all who register below.
Recommended reading:
The Nov. 20 lunch discussion will be held from noon to 1:15 p.m. at the UNC School of Law's Boardroom. We will provide free box lunches and drinks. RSVP using the form below by Wednesday, Nov. 18.  
RSVP
Website RSVP are closed for this event. Please email nickwg@live.unc.edu to inquire about RSVPing.


Tagged: Free Speech, Interdisciplinary Lunch Series, Scholarship, Student Speech
---