Date/Time
Date(s) - 01/29/2016
12:00 pm - 1:15 pm
Location
Halls of Fame Room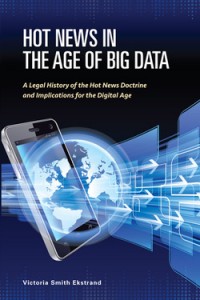 On Friday, Jan. 29, the UNC Center for Media Law and Policy will host an interdisciplinary lunch open to faculty and graduate students from across the UNC system.  Professor Tori Ekstrand from the UNC School of Media and Journalism will discuss the impact and legal history of the hot news doctrine, an unfair competition claim that protects the facts of breaking news and discrete units of data and information for a limited period.Today, the use of the phrase "BREAKING NEWS" to label the most current information feels much like the knock at the front door – the urgency to know and respond to the noise is unrelenting if not also required. Breaking news in the early 21st century shouts at us to pay attention in an increasingly crowded media space. Smartphones relentlessly ping at us about matters both large and small – and instant messages from friends and family compete in the same space as war reports and market meltdowns. The way news is gathered, reported, and digested has forever changed, and the increasing emphasis on speed (and the concomitant increase in volume of information) is changing how society receives and acts on the information it processes.
Even in such an overloaded terrain, seconds still appear to matter. The way we think of speed and of time in relation to information and the spread of that information is increasingly more interesting to consider. You may find out that a plane crashed at 5 p.m. just seconds after the fact. I may find out three hours later from your shared social media post. Either way, such news is essentially "new" or "hot" to both of us. It is commercially and socially valuable to those who report and produce it and for those, too, who reshare those online links with friends and colleagues on social media.
Historically, such news has been thought of as "belonging" to the one who gathered and reported it first. "Hot news," it is argued, is a form of intellectual property, a tangible economic asset that retains considerable financial value. Dr. Ekstrand's new book, Hot News in the Age of Big Data: A Legal History of the Hot News Doctrine and Implications for the Digital Age (LFB Scholarly 2015), is the nearly century-long story of a U.S. legal doctrine that protects those who gather and publish such "hot news" and the effects of that single case on the desire and drive for speedy news and information. It also explores the doctrine's clash with First Amendment values and protections for public domain content.
In theory, hot news claims exist perpetually. Practically speaking, only the most egregious violators — those who persistently pirate fresh news and information, often from the same source – are the ones who are pursued in court. Dr. Ekstrand will discuss her research and the implications for the future of the news industry and for Big Data at the lunch.
A free lunch will be served to all who register below.
Recommended reading:
The Jan. 29 lunch discussion will be held from noon to 1:15 p.m. at the UNC School of Media and Journalism in Halls of Fame room on the first floor. We will provide free box lunches and drinks. RSVP using the form below by Wednesday, Jan. 27.  
RSVP

Warning: count(): Parameter must be an array or an object that implements Countable in /opt/app-root/src/wp-content/plugins/events-manager/templates/placeholders/bookingform.php on line 16


Website RSVP are closed for this event. Please email shaocy@live.unc.edu to inquire about RSVPing.


Tagged: Interdisciplinary Lunch Series, Speakers
---