Date/Time
Date(s) - 09/11/2015
12:00 pm - 1:15 pm
Location
Halls of Fame Room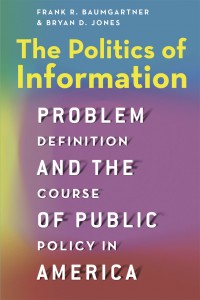 On Friday, Sept. 11, the UNC Center for Media Law and Policy will host an interdisciplinary lunch open to faculty and graduate students from across the UNC system. The topic will be The Politics of Information and the Paradox of Search, led by Frank Baumgartner, the J. Richardson Distinguished Professor of Political Science at UNC.
How does the government decide what's a problem and what isn't? And what are the consequences of that process? Like individuals, Congress is subject to the "paradox of search." If policy makers don't look for problems, they won't find those that need to be addressed. But if they carry out a thorough search, they will almost certainly find new problems—and with the definition of each new problem comes the possibility of creating a government program to address it.
In their new book, The Politics of Information, Baumgartner and his co-author, Bryan D. Jones of the University of Texas at Austin, turn the focus to the problem-detection process itself, showing how the growth or contraction of government is closely related to how it searches for information and how, as an organization, it analyzes its findings. Better search processes that incorporate more diverse viewpoints lead to more intensive policymaking activity. Similarly, limiting search processes leads to declines in policy making. At the same time, the authors find little evidence that the factors usually thought to be responsible for government expansion—partisan control, changes in presidential leadership, and shifts in public opinion—can be systematically related to the patterns they observe.
September's lunch discussion will be held from noon to 1:15 p.m. on Friday, Sept. 11 in the Halls of Fame room on the first floor of Carroll Hall on the UNC campus. We will provide free box lunches and drinks. RSVP using the form below by Wednesday, Sept. 9.
Background Readings:
RSVP

Warning: count(): Parameter must be an array or an object that implements Countable in /opt/app-root/src/wp-content/plugins/events-manager/templates/placeholders/bookingform.php on line 16


This event is fully booked. If you are unable to register because we have reached the maximum number of reservations, please email shaocy@live.unc.edu to be added to the waitlist.


Tagged: Interdisciplinary Lunch Series
---