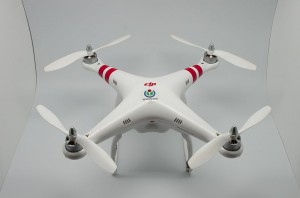 It's not a bird, it's not a plane, and unfortunately it's not Superman either. So what is this small white device with propellers? It's a drone, and in the next few years, drones just like this one might be whizzing over your head doing everything from taking pictures to delivering a late night pizza.
News companies might use drones to film crime scenes, natural disasters, or police chases. Amazon says it wants to use drones for deliveries. With the cheapest drones costing a little less than $300, soon even your nosey neighbor down the street might be able to buy a drone to keep up on the latest gossip and sell it to TMZ. But should commercial drones by journalists or other civilians be legal? It's a topic that is being debated in courts and by legal scholars and journalists across the country.
To help bring some clarity to these questions, we thought it would be helpful to have a one stop shop for all you need to know about drones and the law.  Accordingly, we created new page on Drone Journalism and the Law in our media law resources section.  The page categorizes the resources by issues you might want to learn about, has relevant Tweets and news stories on the side bar, and will continue to be updated as the law changes and develops. Please let us know if we've missed something.
(Image courtesy of Wikimedia Commons user PleClown pursuant to a Creative Commons CC by 2.0 license)