Date/Time
Date(s) - 10/05/2018
12:00 pm - 1:15 pm
Location
Faculty Lounge, UNC School of Law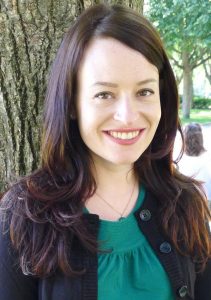 On Friday, Oct. 5, the UNC Center for Media Law and Policy will host an interdisciplinary lunch with Alice Marwick, Assistant Professor in the UNC Department of Communication. Marwick will discuss a sociotechnical model of media effects that helps to explain the phenomenon known as "fake news." The lunch is open to all UNC faculty and graduate students.
"Fake news" emerged first during the 2016 election season as a way to characterize cheaply-produced sites full of sensational information, but existed solely to capitalize on Americans' interest in the election and generate online advertising dollars. It was then seized upon by then-candidate Donald Trump to describe unflattering mainstream news coverage. Regardless of what "fake news" actually means, it is typically tied up with anxieties about the democratic ramifications of the shift from consuming news from broadcast television and newspapers to consuming news on social platforms.
Most fake news isn't political, but sensational. Fact-checking sites and media literacy campaigns presume that people will change their political opinions if confronted with "correct" information. In fact, people share fake news because it furthers partisan narratives that are promoted by mainstream (mostly) conservative media and expresses personal and political identity, which is ever-increasingly polarized and personal. This has important implications on why and how fake news content spread through social media.
Marwick researches the social, political, and cultural implications of popular social media technologies, and is best known for her work on media manipulation and disinformation online; micro-celebrity; online privacy; and context collapse. Her first book, Status Update: Celebrity, Publicity and Branding in the Social Media Age, draws from ethnographic fieldwork in the San Francisco tech scene to examine how people seek social status through attention and visibility online. Her current book project examines how the networked nature of online privacy disproportionately impacts marginalized individuals in terms of gender, race, and socio-economic status.
Marwick was formerly Director of the McGannon Communication Research Center and Assistant Professor of Communication and Media Studies at Fordham University, and a postdoctoral researcher in the Social Media Collective at Microsoft Research New England. She writes for popular publications such as The New York Times, The New York Review of Books and The Guardian in addition to academic journals including New Media and Society, Public Culture, Social Media & Society, the International Journal of Communication and Television & New Media, among others.  Marwick has a Ph.D. from the Department of Media, Culture and Communication at New York University.
October's lunch discussion will be held from noon to 1:15pm on Friday, October 5 in the Faculty Lounge at the UNC School of Law. We will provide box lunches and drinks. RSVP using the form below by noon on Wednesday Oct. 3.
Background Readings
"Why Do People Share Fake News? A Sociotechnical Model of Media Effects,"  Georgetown Law Technology Review (July, 2018), by Alice E. Marwick.
RSVP

Warning: count(): Parameter must be an array or an object that implements Countable in /opt/app-root/src/wp-content/plugins/events-manager/templates/placeholders/bookingform.php on line 16


Website RSVP are closed for this event. Please email shaocy@live.unc.edu to inquire about RSVPing.


Tagged: Interdisciplinary Lunch Series
---