Date/Time
Date(s) - 03/24/2022
4:00 pm - 5:00 pm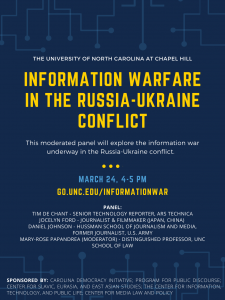 On March 24, the Center for Media Law and Policy will be co-sponsoring the Carolina Democracy Initiative's pop-up event on Zoom to examine information warfare in the Russia/Ukraine conflict.
In addition to discussing the many challenges facing journalists covering the conflict, the panel will explore how social media has changed information warfare and impacted intelligence gathering and analysis, evaluate how social media platforms and journalists handle mis- and disinformation, and offer media literacy tips for those who want to understand what is going on in Ukraine.
The panel will be moderated by Mary-Rose Papandrea, Samuel Ashe Distinguished Professor of Constitutional Law at the UNC School of Law, and will include:
Tim De Chant – Senior Technology Reporter at Ars Technica
Jocelyn Ford – Beijing-based award-winning radio correspondent and filmmaker
Daniel Johnson – Park fellow at the Hussman School of Journalism and Media at UNC and former infantry officer and journalist with the United States Army in Iraq.
This event is free and open to the public. To register, please go here.


Tagged: Misinformation
---