Date/Time
Date(s) - 02/20/2015
12:00 pm
Location
Halls of Fame Room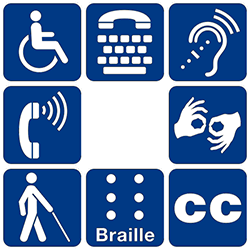 On Friday, Feb. 20, 2015, at noon in the Halls of Fame room in Carroll Hall, the UNC Center for Media Law and Policy will host an interdisciplinary lunch open to faculty and graduate students from across the Carolina campus. The topic will be "Web Accessibility and the Americans With Disabilities Act: What the Disabled Should Expect from the First Amendment." The discussion will be led by Tori Ekstrand, assistant professor of media law in the School of Journalism and Mass Communication.
A free lunch will be served to all who register below.
The Americans with Disabilities Act (ADA) will celebrate its 25th anniversary in 2015. Enacted by Congress and signed into law by President George H.W. Bush, the ADA was designed to ensure that people with disabilities are given "independence, freedom of choice, control of their lives, the opportunity to blend fully and equally into the rich mosaic of the American mainstream." Title III of the ADA defines what kinds of public and private spaces must provide access and accommodations to the disabled. Missing from that list, because of the ADA's timing, is the Internet, effectively shutting the disabled out of the rich marketplace of ideas online. This talk will address the case law surrounding this omission and the foot-dragging of the executive and legislative branches in extending Title III to the Internet. Prof. Ekstrand argues that extending Title III to the Internet is bolstered by First Amendment right to know principles.
You must register by Tuesday, February 17, to receive your free lunch!
If you need help with access to or accommodations for this event, please contact Tori Ekstrand at torismit@email.unc.edu.
Read about recent issues below:
RSVP

Warning: count(): Parameter must be an array or an object that implements Countable in /opt/app-root/src/wp-content/plugins/events-manager/templates/placeholders/bookingform.php on line 16


Website RSVP are closed for this event. Please email shaocy@live.unc.edu to inquire about RSVPing.


Tagged: Interdisciplinary Lunch Series
---