Date/Time
Date(s) - 09/23/2014
5:00 pm - 6:15 pm
Location
Room 33, Carroll Hall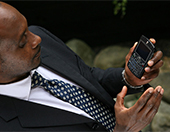 Are you in love with your smart phone? Can't imagine life without it? Come to hear Carolina students and others discuss how private businesses and the government use your smart phone to learn about you. Students also will discuss how much they know about digital security and whether they are happy to share their information.
These are the panelists:
David Cowhig, a first-year master's student in the UNC School of Information and Library Science who studies human computer interaction and is interested in digital security issues. Before coming to school, David launched and ran his own computer repair and networking business, Cowhig and Co., in Greensboro.
Angus Robertson, a senior advertising major and president of the UNC Advertising Club.
Dr. Tori Ekstrand, an assistant professor in the UNC School of Journalism and Mass Communication who teaches media law.  She purposely owns a dumb phone, despite how hard that makes her life.
Cori Johnson, a journalism major from Charlotte who uses a smart phone.
Sean Catangui, a journalism major from Sioux Falls, S.D., who uses a smart phone.
Cameron Robert (moderator), a photojournalism major and assistant visual editor at The Daily Tar Heel. In addition to working with photography and videography, he has recently delved into the world of music production.

Tagged: 1AD2014, First Amendment Day, Social Networks, Students
---