Date/Time
Date(s) - 03/25/2015
12:00 pm - 12:50 pm
Location
Room 4082, UNC School of Law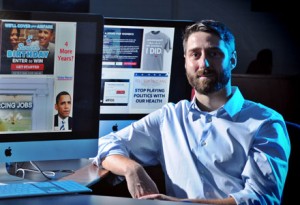 Join the American Constitution Society and the Center for Media Law and Policy for an engaging discussion with Professor Daniel Kreiss, assistant professor in the UNC School of Journalism and Mass Communication and adjunct assistant professor in the Department of Communication Studies at the University of North Carolina at Chapel Hill.
Professor Kreiss will discuss innovation and inertia in political campaigning:
During the 2012 presidential campaign, Obama's re-election effort was far more sophisticated in its use of technology, data, and analytics to target voters, communicate with them, and leverage the efforts of volunteers than its Republican counterpart. And yet, political practitioners widely agree that the two parties were in reverse situations during the 2004 presidential election cycle, with the re-election campaign of George W. Bush having far more sophisticated field efforts and more advanced internet operations than John Kerry's campaign. This talk explains the divergence in the two parties' respective capacities to innovate in a rapidly changing technological environment. In the process, I detail the evolution of campaigning and digital technologies over the past decade and suggest what we may see during the 2016 presidential election. To do so, I draw on interviews with more than sixty senior staffers in the Republican and Democratic party networks active over the past decade and the presidential campaigns of Barack Obama and Mitt Romney, in addition to archival and publicly available materials.
Kreiss's research explores the impact of technological change on the public sphere and political practice. In Taking Our Country Back: The Crafting of Networked Politics from Howard Dean to Barack Obama (Oxford University Press, 2012), Kreiss presents the history of new media and Democratic Party political campaigning over the last decade. Kreiss is currently working on a second book project, provisionally titled Networked Ward Politics: Parties, Databases, and Campaigning in the Information Age (under contract with Oxford University Press and due out in 2016). Kreiss is an affiliated fellow of the Information Society Project at Yale Law School, where he was also a postdoctoral fellow, and received a Ph.D. in Communication from Stanford University. Kreiss's work has appeared in New Media and Society, Qualitative Sociology, Critical Studies in Media Communication, Research in Social Movements, Conflict, and Change, The Journal of Information Technology and Politics, and The International Journal of Communication, in addition to other academic journals.


Tagged: ACS, Politics, Speakers
---