Date/Time
Date(s) - 04/10/2023
7:30 pm - 9:30 pm
Location
The Carolina Inn
2023 Wade H. Hargrove Media Law & Policy Colloquium Featuring Floyd Abrams
The Future of the First Amendment
What the battles over freedom of expression in the twentieth-century tell us
about the challenges facing the First Amendment in the twenty-first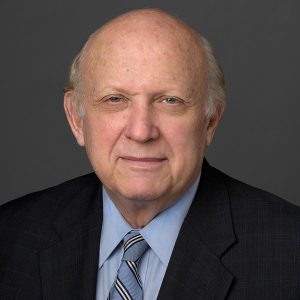 On April 10, the UNC Center for Media Law and Policy will host the 2023 Wade H. Hargrove Media Law and Policy Colloquium featuring Floyd Abrams, Senior Counsel at Cahill Gordon & Reindel. Abrams, one of the nation's leading First Amendment lawyers, will speak about "The Future of the First Amendment." In addition to giving prepared remarks, he will sit down with Mary-Rose Papandrea, Samuel Ashe Distinguished Professor of Constitutional Law at the UNC School of Law, for an extended conversation about this important topic.
Abrams has extensive experience in high-visibility matters, often involving First Amendment, securities litigation, intellectual property, public policy and regulatory issues. He has argued frequently in the U.S. Supreme Court in cases raising issues as diverse as the scope of the First Amendment, the interpretation of ERISA, the nature of broadcast regulation, the impact of copyright law, and the continuing viability of the Miranda rule. Most recently, he prevailed in his argument before the Supreme Court on behalf of Senator Mitch McConnell as amicus curiae, defending the rights of corporations and unions to speak publicly about politics and elections in Citizens United v. Federal Election Commission. Abrams also represented The New York Times in the Pentagon Papers case and other important First Amendment litigation before the Supreme Court. He represented Nina Totenberg and National Public Radio in the 1992 "leak" investigation conducted by the United States Senate arising out of the confirmation hearing of Justice Clarence Thomas and, in 2004 and 2005, Judith Miller and Matthew Cooper in their efforts to avoid revealing their confidential sources.
Described by Senator Daniel Patrick Moynihan as "the most significant First Amendment lawyer of our age," Abrams has been awarded with Lifetime Achievement Awards by The New York Law Journal and The American Lawyer (2013). For fifteen years, Abrams was the William J. Brennan, Jr. Visiting Professor of First Amendment Law at the Columbia Graduate School of Journalism. He also has been a Visiting Lecturer at Yale Law School and Columbia Law School and he is author of Friend of the Court: On the Front Lines with the First Amendment, published by Yale University Press (2013) and Speaking Freely: Trials of the First Amendment, published by Viking Press (2005).
Abrams will speak at 7:30 p.m. in the Chancellors' Ballroom at the Carolina Inn. The event is free and open to the public.
About the Colloquium
The UNC Center for Media Law and Policy hosts the Wade H. Hargrove Media Law and Policy Colloquium, which was established in 2009 to honor a figure of national prominence in the areas of media law or media policy. It was funded in part by the North Carolina Association of Broadcasters and North Carolina Cable Telecommunications Association to recognize the more than 30 years of service that Wade Hargrove, a graduate of the University of North Carolina at Chapel Hill and the UNC School of Law, provided to these organizations as well as media and technology companies throughout North Carolina and the nation.

The colloquium is a world-class event that draws attendees from both industry and academia. Speakers have included David Barrett, former chairman and CEO of Hearst Television Inc.; Ben Sherwood, former president of Disney|ABC Television; and David Cohen, Ambassador to Canada and former senior executive vice president of Comcast Corp. Past colloquia have been televised by C-SPAN and UNC-TV.


Tagged: Hargrove Colloquium
---