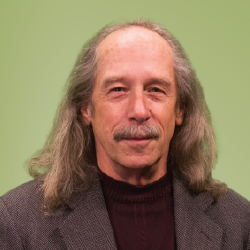 Paul Jones is the director of ibiblio.org, a contributor-run, digital library of public domain and creative commons media. He is also Clinical Professor in the School of Information and Library Science and in the School of Media and Journalism — all at the University of North Carolina.
Jones has a particular interest in social networks, in collaborative economies, and in New Media. He was the founder of SunSITE.unc.edu, one of the first World Wide Web sites in North America, now known as ibiblio.org. He is the author of "The Web Server Book" (Ventana, 1995) and numerous articles on topics such as electronic archives and curation, digital libraries and the Open Source movement.
Jones has been an invited speaker at many events and conferences including those held at the University of Pennsylvania Law School, the Berkman Center at Harvard Law School,  the University of Granada (Spain), the Indian Institute of Technology (Delhi), US Environmental Protection Agency, North Carolina Press Association, and the Librarians' Association at UNC-Chapel Hill.
Jones was co-chair of the 2010 International World Wide Web Conference.