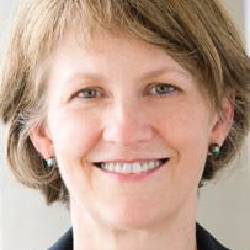 Anne Klinefelter is Director of the Law Library and Associate Professor of Law.  She teaches courses on Privacy Law and serves as faculty advisor to the North Carolina Journal of Law & Technology.  She writes and speaks on information policy and law topics including privacy and confidentiality law, particularly as these areas apply to libraries and legal information management.  Professor Klinefelter is a Faculty Affiliate of the UNC Center for Media Law and Policy and a member of the Advisory Board of the Future of Privacy Forum. She also serves on the UNC Faculty Committee on University Government.
Professor Klinefelter has been active in library associations and library education. In 2012, she received the Distinguished Lecturer Award from the American Association of Law Libraries (AALL.) She served as chair of the American Association of Law Schools Section on Law Libraries, president of the Southeastern Chapter of AALL, and chair of the Copyright Committee of AALL.  She has also held leadership roles in two library consortia.  She is a current member of the Board of Editors for Law Library Journal.   She currently serves on the UNC School of Information and Library Science Administrative Board and as faculty advisor for students in dual degree graduate programs linking Law and Library or Information Science at UNC.
Prior to coming to North Carolina, Anne Klinefelter was Acting Director of the Law Library at the University of Miami and previously held positions in libraries at Boston University and the University of Alabama.